Having a mobile application is almost essential for any crypto service. This includes crypto wallets which need to be handy in order to make transactions with crypto more convenient and accessible. Users value having a handy app but they also pay attention to security features in order to keep their crypto assets safe from being lost or stolen. In this article, we will take a look at reputable crypto wallet services that offer mobile applications. All of these services have mostly positive user feedback and robust interface but differ in the features they offer.
Coinbase
Coinbase is one of the largest cryptocurrency exchanges that has been operating since 2011. It was founded by former Airbnb engineer Brian Armstrong and co-founder Fred Ehrsam, a former Goldman Sachs trader, who joined the company in 2012.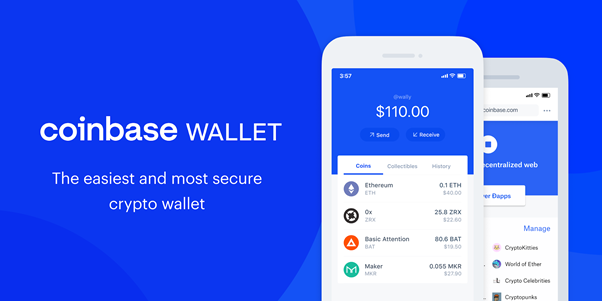 Coinbase Wallet is one of the services offered by the platform. It is designed as a digital crypto wallet that allows users to store and manage their crypto and NFT assets.
Features
Coinbase Wallet is a hot wallet that can be integrated with dApp browsers. This allows users to create accounts on various devices including but not limited to Android and iOS systems.
The wallet is self-custody which means users have full control over their assets and are responsible for managing their own private keys. The keys are basically stored directly on the device used to access the app. It's also compatible with hardware wallets like Ledger and Trezor.
Coinbase Wallet doesn't function like a centralized exchange but it can be used for sending and receiving transactions from a crypto exchange or another user. Compatible with major fiat currencies like USD, this wallet can be connected to a crypto-friendly bank account.
A stand-out feature of the Coinbase Wallet is its ability to store NFTs (ERC721 tokens) as well as initiate buying and selling of NFTs. This app also allows users to shop at retail stores that accept crypto payments.
Security
Since this wallet is a hot wallet, the funds are stored online which can make it vulnerable to hacking threats. To minimize the risk, Secure Enclave technology is used to store private keys securely. Other standard security features like 2-factor authentication and additional PIN can also be enabled.
Private user data is encrypted with AES-256 (Advanced Encryption Standard). Physical backup drives are safely stored in deposit boxes and vaults in various locations.
Pricing
The Coinbase Wallet application is free to download and use. Commissions applied to transactions include network fees and variable fees that can range between 1.49 and 3.99%.
ChangeNOW
ChangeNOW.io is a crypto exchange platform that was launched in 2017. It has over 50,000 asset pairs available and supports over 60 fiat currencies. ChangeNOW's goal is to provide an easy and straightforward way to swap, buy, and sell crypto without sacrificing user privacy. The range of their services includes instant exchange, wallet, tracker, and loans.
Features
ChangeNOW mobile crypto wallet app can be downloaded from App Store and Google Play. There are no tedious steps like registration and verification so users can go straight to transactions. The wallet supports all major cryptocurrencies including BTC, ETH, ERC-20, and BEP2-based tokens. Almost anyone with a phone and Internet connection can use the wallet without geographical restrictions unless prohibited by the law. Fiat transactions are easy thanks to ChangeNOW's integration with payment providers Guardian and Simplex. There are no exchange limits starting at $2. The cashback feature is also available on the app.
Security
Since ChangeNOW is a non-custodial wallet so users have full control over their own funds. Lack of personal information required to register for ChangeNOW services also minimizes privacy concerns.
Pricing
ChangeNOW is free to download and use. Transaction fees are applied and users can choose fixed or classic exchange rates. Depending on the type of rate chosen, fees lay around 1%.
MetaMask
MetaMask was created in 2016 by a New York-based software company ConsenSys. Originally available as a browser extension, MetaMask allows users to store and swap Ethereum-based coins and tokens. It works on Chrome, Firefox, and Brave browsers, and the code is open-sourced. In 2020, a mobile application for MetaMask was released.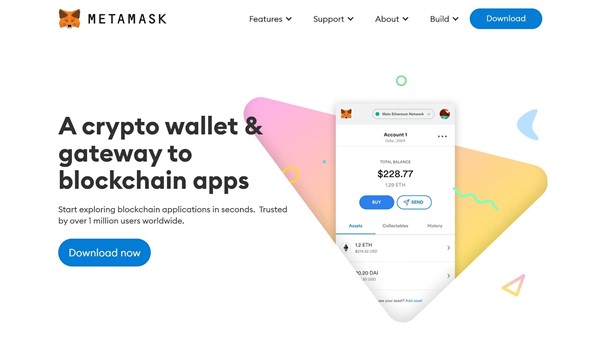 Features
MetaMask is available as a mobile application for iOS and Android. Users can store and exchange tokens and since the app is decentralized, they have full control over their private keys.
This wallet can only be used to store Ethereum and Ethereum-related tokens including NFTs (ERC-721). While limiting, this still comes up to over 1800 different cryptocurrencies.
While the web version can be integrated with hardware wallets like Ledger, this feature isn't available on mobile yet.
MetaMask allows direct ETH deposits as well as buying ETH using a bank card through a payment processor Wyre.
Security
Private keys are stored on the users' devices which makes them responsible for keeping them safe. Extra layers of security include custom PIN codes and secret backup phrases. The mobile application has way fewer security threats than browser versions, however, taking precautions and storing all the passwords and other credentials in an accessible but secure way is the key to keeping the wallet and assets inside of it safe.
Pricing
MetaMask applications are free to download. As a service fee, 0.875% is automatically applied to each quote. Besides that, users need to pay ETH gas fees.
Exodus
Exodus is a crypto wallet software that was released in 2015. The wallet supports over 150 cryptocurrencies. As stated by the founders of Exodus, JP Richardson and Daniel Castagnoli, their mission is to empower people to control their wealth. Both of them have vast experience in tech: JP publishing over 200 open-source libraries for Bitcoin and other crypto and Daniel working on visuals for companies like Apple and Disney.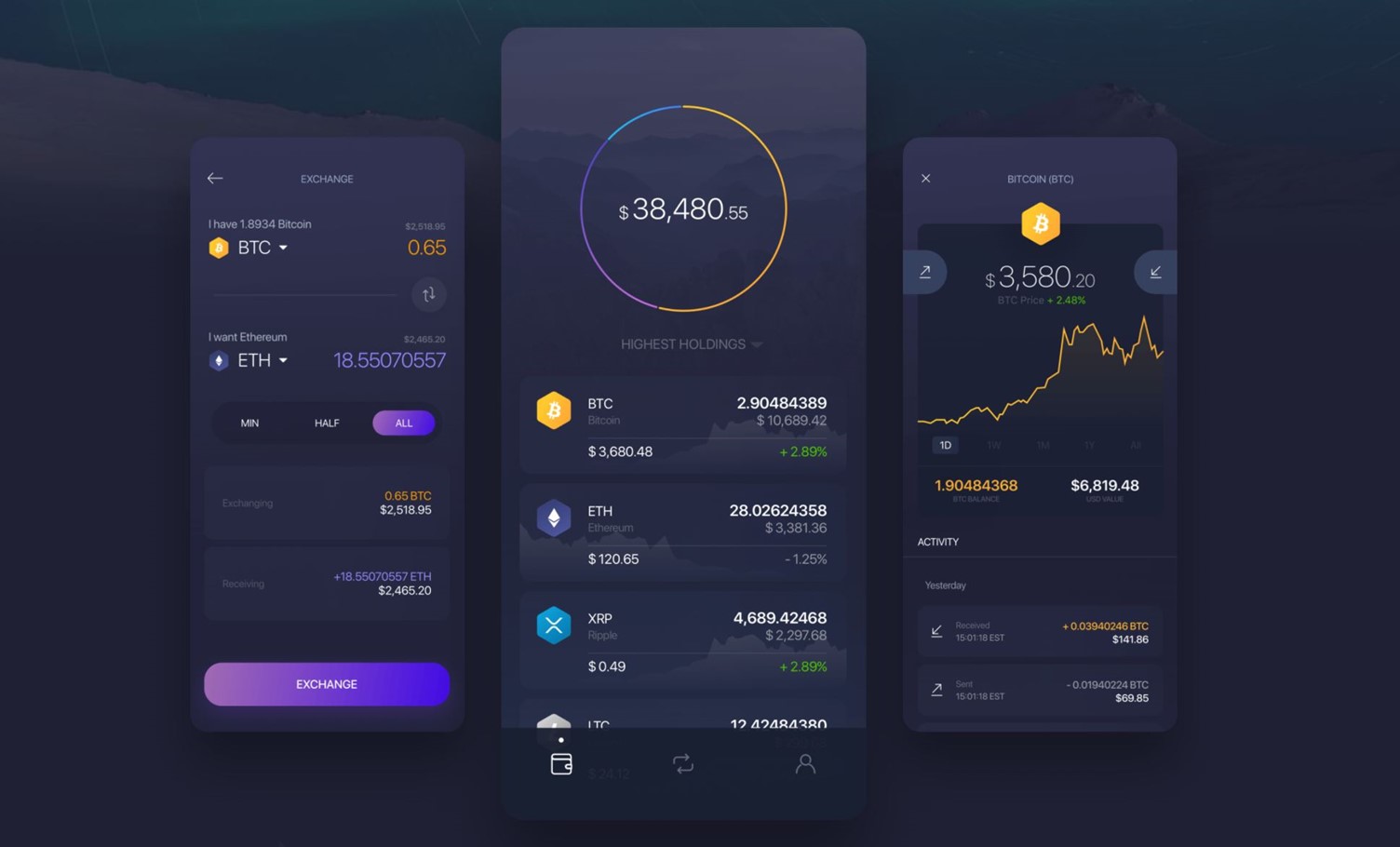 Features
Exodus mobile application is available on both iOS and Android. There are three tabs on the app: portfolio, exchange, and wallet. Exodus allows users to track their portfolio and its performance, exchange/swap assets, and store them while managing their own private keys. While crypto transactions are easy to make, there is no option to deposit fiat or buy crypto with fiat on Exodus.
Security
Since Exodus mobile wallet is non-custodial, users manage and store their private keys. In case access to the app is lost, the wallet can be restored using a 12-word passphrase or an email address linked to the account. Exodus can also be integrated with hardware wallets like Ledger or Trezor for additional security.
Pricing
The Exodus app is free to download. There are no commissions applied to deposit or withdrawal so the only fees users pay are network or miner fees.
MyEtherWallet
MyEtherWallet or MEW is one of the oldest and most reputable crypto wallets out there. It's open-source software that allows users to interact directly with the Ethereum network and store various assets like ETH, ERC, ETC, and BTC. MEW was founded in 2015 by Taylor Monahan and Kosala Hemachandra. Taylor has also later launched an Ethereum wallet manager MyCrypto.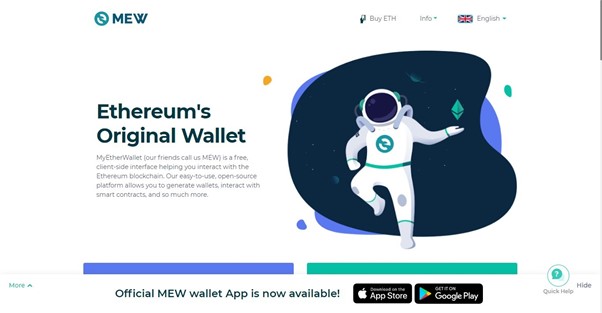 Features
The MEW application can be downloaded from Apple AppStore, Google Play, or Samsung's Galaxy Store. Users can buy ETH easily with a bank card. Fiat withdrawals are not available, funds can only be withdrawn in ETH. The outstanding feature of MEW is allowing offline access to the wallet can be used even without an Internet connection.
Security
MyEtherWallet is non-custodial which means users have control over their private keys. Security features include choosing a secure PIN. using Face ID or setting up fingerprint unlocking. MEW also comes fully integrated with hardware wallets that allow users to store their assets on a physical drive.
Pricing
MEW is free to download and use. Users only have to pay a gas fee to send funds on the Ethereum blockchain.
Conclusion
We have taken a look at major crypto wallet apps: Coinbase, MetaMask, Exodus, MyEtherWallet, and ChangeNOW. While varying in features and payment options, all of these apps are trustworthy and reputable among the crypto community. Choosing one will depend on what features are a priority and how the wallet is going to be used.
Supported currencies
Custody
Security
Pricing
Coinbase
USD, crypto, NFTs
Non-custodial
2fa, PIN, AES
Transaction fees from 1.49% to 3.99%
MetaMask
ETH, ERC, NFTs
Non-custodial
PIN, backup phrases
0.875% commission, gas fees
Exodus
Crypto
Non-custodial
2-word passphrase, linked email
Transaction fees
MyEtherWallet
Crypto (mainly ETH)
Non-custodial
PIN, face ID, fingerprint
Gas fees
ChangeNOW
380+ crypto, 58 fiat
Non-custodial
Instant transactions,

no registration/

verification

Transaction fees of around 1%
Image: Pixabay